About Us and Mission Statement
Toyota Technological Institute at Chicago (TTIC or the Institute) is a philanthropically endowed academic computer science institute. We provide a tailored PhD program to the world's most promising computer scientists and consistently produce cutting-edge research by award-winning faculty and students.
Our mission is to achieve international impact through world-class research and education in fundamental computer science and information technology.
Learn more about TTIC's history here.
---
Research Areas
Our research areas are: machine learning and optimization, algorithms and complexity, computer vision and computational photography, speech and language technologies, robotics, and computational biology.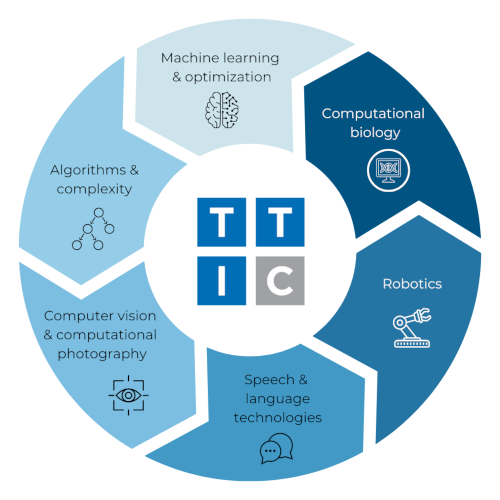 ---
Award-winning Students and Faculty
TTIC students, faculty and alumni routinely publish their results at top conferences and are recognized with distinctions and awards, such as: Google Faculty awards, NSF fellowships, Microsoft PhD fellowships, Google PhD fellowships, Michael and Sheila Held Prize, multiple best paper awards in flagship conferences, and many others. To view a complete list of awards, click here.
PhD alumni have gone on to post-doc, researcher and faculty positions at top ten computer science departments. Others work at top tech companies such as Google, Tesla, Meta AI and FAIR, and Microsoft Research. See more TTIC alumni and their accomplishments here.
---
Our Faculty
TTIC faculty members enjoy a uniquely light teaching load of one class per year, which helps them focus on their research. TTIC has only PhD students, so all courses and activities are focused on advanced learning and research. Learn more and apply here, or view our outstanding faculty here.
We also seek Research Assistant Professors (RAPs), which is a fixed-term, non-tenure track faculty position fully funded by the Institute. This unique position allows researchers in the beginning of their careers to build strong portfolios of research and to be independent, focus on research, and have no compulsory teaching duties. RAPs interact with faculty, postdocs, and PhD students at TTIC and also have ample opportunity to work with colleagues at the University of Chicago. See our faculty alumni and explore the esteemed careers our RAPs have gone on to after their appointments TTIC.
---
PhD Program in Computer Science
Graduate education is at the heart of TTIC's mission statement. We offer a tailored PhD program in computer science, which allows students to receive a master's degree while receiving a PhD. We do not offer an undergraduate program. Learn more about our computer science PhD program here.
---
Relationship with the University of Chicago
TTIC is located in Hyde Park on the University of Chicago campus and has a close affiliation with the University of Chicago Department of Computer Science. An agreement between the University of Chicago and TTIC allows cross-listing of computer science course offerings between the two institutions, providing students from each institution the opportunity to register in the others courses. Faculty and students enjoy full privileges of the University library system, athletic facilities and other services.
---
Our History and Funding
TTIC officially opened for operation in September of 2003 and was founded by the Toyota Technological Institute (TTI), in Nagoya in Japan, a small private engineering school with an endowment provided by the Toyota Motor Corporation. TTI established TTIC with the intention of creating a world-class, independent, computer science institution. There is close collaboration between TTIC and TTI Japan. Learn more about TTI.
The Institute is supported by the earnings on an endowment of approximately $255 million. All TTIC faculty positions are supported by the endowment.
---
Strategic Plan 2022-27
As its 20th anniversary approached, the Institute undertook a comprehensive strategic planning process to provide an opportunity for TTIC to reflect on its past, consider its present status, and think strategically about priorities for the coming years. The strategic plan (2022-2027) identifies key strategic priorities and initiatives to help guide and propel the Institute forward in the near future.
---
Accreditation
TTIC has degree granting authority in the State of Illinois and is Accredited by the Higher Learning Commission of the North Central Association of Colleges and Schools.
230 South LaSalle St., Suite 7-500
Chicago, IL 60604
800.621.7440
---
FAQ
Please view our frequently asked questions here.