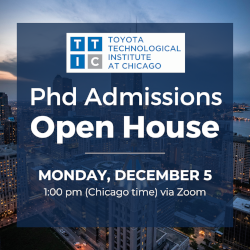 The Toyota Technological Institute of Chicago (TTIC) is hosting a PhD Admissions Open House on Monday, December 5, at 1:00 pm CT via Zoom.
Learn more about the PhD program, our academic community, and ask questions during our open Q&A with TTIC faculty and students.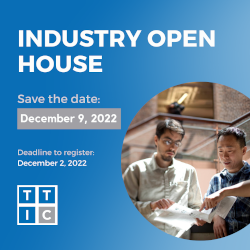 The Toyota Technological Institute at Chicago (TTIC) is hosting an Industry Open House on December 9, 2022 to introduce companies to the groundbreaking research and faculty, postdocs, and students of TTIC.
We invite industry representatives interested in learning more about TTIC and opportunities for short and long-term partnerships to attend.
TTIC is committed to providing a respectful and positive environment for all members of its community, free from all forms of discrimination and harassment.