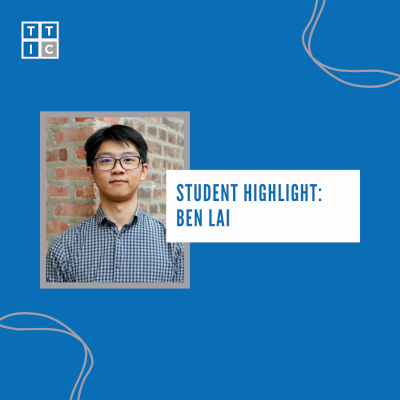 Student Highlight: Ben Lai
Fifth-year PhD candidate Ben Lai joined the TTIC community in October of 2018 and is researching computational biology and bioinformatics, and machine learning and optimization, under advisor Professor Jinbo Xu. One of his main research projects is specifically on computational protein design.
"Designing stable and functional protein is a very challenging task, and we're trying to bridge the gap between in silico protein design and wet lab experiments to make the process more efficient," Lai said. "We're trying to make de novo protein design more robust and accessible to the scientific community. We're trying to develop tools to allow more labs and research groups that are able to do the design without having to go through the same hurdles."
People have been trying to engineer and design therapeutics and enzymes for over a century, but it's still a very laborious process that takes a lot of resources to create any drugs or therapeutics to be used on humans. But now with emerging technology like deep learning and machine learning, one can accelerate the process of developing new therapeutics while reducing the costs, and also improve the outcome of the drug development.
"We are using deep learning techniques and specialized architecture to make novel protein molecules such that we can confidently bring to the lab for testing," Lai said.
Lai received his B.S. from Columbia University and his B.A. from Bard College at Simon's Rock. Now as a PhD candidate at TTIC, after being advised by Professor Jinbo Xu, Lai has developed more interest in developing molecules and proteins.
"I started studying biology in undergrad because I was trying to prepare for medical school," Lai said. "But then I went to Columbia to do computer science, and even when doing it I was more focused on computational biology. My undergraduate thesis advisor was also researching computational biology. In general, I've kept my interest in biology."
Combining these two things, [computer science and biology], is not a new idea, according to Lai. Computational approaches have been used by biologists for decades, but with deep learning, people have been able to do in silico experiments that they never thought possible.
Overall, Lai enjoys working on computational biology problems because of how much it interests him, especially when algorithms developed in silico that are used in the lab to make impact.
"We don't actually do wet lab experiments, but I know people now who do lab work and were able to use our technology or our methods we developed to facilitate their experiments," Lai said. "I feel passionate about getting things to work and seeing it not just on the computer or with numbers, but made into a real product."
Along with the great food scene that comes with living in Chicago, the collaborative environment is one of Lai's favorite aspects of being part of the TTIC community.
"I think the collaborative environment between TTIC and the University of Chicago is really good," Lai said. "I've met a lot of people from very different backgrounds and research interests, and I'm always able to find someone who has certain expertise in exactly what I am looking for, which is a valuable resource. If we encounter some problems we don't know or is outside of our expertise, we have someone we can look for and collaborate with."
Being a PhD student is the best time to do your own research and having freedom to research what you want to study, Lai said.
"If I were to give advice, I'd say to find a problem that you're passionate about and even if it's hard, it's fine to fail," Lai said. "You learn from failure, and the experience and knowledge you gain when things did not work out is more important and valuable, so don't be afraid. Doing a PhD is about learning how to face failure."
When it comes to his next steps, Lai said he is likely to leave academia and enter industry.
"As it stands, I see value in applying what I'm researching in realistic settings," Lai said. "What we're working on is very cutting-edge, so we have more control on how things go, even in industry."