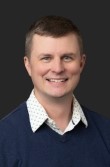 2021 Outstanding Administrator: Adam Bohlander
Each year at TTIC's Diploma and Awards Ceremony, an exemplary member of the administrative staff is recognized for their hard work and dedication to the Institute with the Latrice Richards Outstanding Administrator Award. The recipient is chosen based on nominations from the TTIC community, including faculty, students, and administrative staff.
The 2021 award was given to Director of Information Technology Adam Bohlander, who has been an integral part of the administrative team at TTIC since 2006. He began working in IT as a junior at Kaneland High School in Maple Park, and has been in the field ever since.
Some of his main responsibilities as Director of IT include high performance computing, GPU computing, and storage. "I would say every day is different. There's very few days that are similar," said Bohlander.
What he enjoys most about working at TTIC is the people, and the unique work environment. There is a lot of freedom, and everything doesn't always have to be perfect the first time. There is always room to learn and grow, without the same level of pressure that exists in other types of workplaces. At a research institute there is a margin for trial and error, making it a great place to try new ideas and let curiosity flourish.
"Since I've been here, most people want a unique solution to their problems. When we hire professors, we discuss the research they're doing and what tools and resources might work well for that. We usually end up designing a custom computing solution for each individual user or group," he said.
For the past six years, he has also held much of the responsibility on the website committee, serving as committee chair and spearheading the last redesign of the Institute website. Outside of IT related responsibilities, Bohlander has also been a member of the COVID-19 response group.