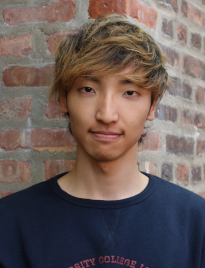 Robotics research for a brighter future
PhD candidate Takuma Yoneda hopes to see helpful robots in every home.
Part of the team that led TTIC to victory in the 2020 Real Robot Challenge, fourth-year PhD candidate Takuma Yoneda is passionate about robotics. Yoneda primarily works with Professor Matt Walter in TTIC's Robot Intelligence through Perception Laboratory (RIPL), and focuses on research in reinforcement learning. Reinforcement learning helps robots learn things like how to walk by themselves, or how to play a game through rewards it receives.
When he was growing up in Japan, Yoneda remembers going to science museums and seeing exhibits portraying futuristic scenarios, like cashiers at a restaurant or shop being replaced by robots. This is where his interest in robotics began, being fascinated by the possibilities of how robots could make our lives easier. He has also been interested in the concept of AI since childhood, which motivated him to study computer science in school.
Having received his bachelor's degree in engineering from the Toyota Technological Institute (TTI) in Nagoya, Japan, he became familiar with TTIC. Yoneda also had the opportunity to meet his current advisor, Prof. Walter, when he first visited TTI after joining the faculty at TTIC in 2014. "I was a sophomore, and he introduced me to the exciting robotics research he had done. That was a good opportunity for me to imagine what I would be able to do with him at TTIC," he said.
Along with robotics, he spends a significant amount of time exploring problems in natural language processing. The two fields tie together so well because in order for robots to be useful to humans on a broader scale, they have to understand natural language.
"I think robots need to interact with humans, and the most natural interface between humans and robots is natural language. Robots will be super useful if we could just say anything, and they work accordingly. I think my idealistic, futuristic view is to have a robot that can understand a vast range of natural language just like humans, and help people in everyday life, from household chores to even just having them there to talk to as a friend," said Yoneda.
He also enjoys living and studying in Chicago, and having the ability to use the resources at both TTIC and the University of Chicago, as we share a campus and have close ties to the UChicago computer science department. TTIC also has a very low student to faculty ratio, and is a community where all of the professors know their students well, and students have direct access to their professors to consult on research ideas and get any help they may need.
"Because it's small, so many things are flexible. We have a student body fund that lets students go out and do group outings, and TTIC is quite willing to adapt based on student input. We have a discussion with the faculty every year. I really love those features of TTIC," said Yoneda. "The hierarchy is also very flat, so you don't feel like students are in one place and professors are in another. It feels like everyone treats each other very equally, which is very cool."
Collaboration among students is also a major part of the TTIC experience, and in the fall of 2020, he partnered with fellow TTIC PhD candidate Chip Schaff in the Max Planck Institute for Intelligent Systems' Real Robot Challenge. This project began with Yoneda walking past a poster advertising the competition. He thought it seemed like a great opportunity, so he posted in TTIC's robotics group, and Schaff decided to join him. A TTI student, Takahiro Maeda, also joined the team.
"Due to the pandemic, I was temporarily in Japan, but we had a meeting on Zoom every week, and the organizers provided an infrastructure where we could remotely operate the robot with a simple interface. We could operate the robot from Japan or from TTIC to run experiments. That was such a fun experience," he said.
The actual robots were in Germany, and people from all over the world were able to send in their algorithms to be tested. Once the competition was finished, Yoneda and Schaff collaborated with other participants, and made a large group to perform more extensive research on the same platform. Though it was difficult working across multiple time zones, with people joining Zoom meetings from Chicago, Japan, and Germany, he truly enjoyed working and publishing a paper with many collaborators.
While earning a PhD can be very challenging, Yoneda is truly passionate about computer science. "There are many tough times, but I think in the end, it's enjoyable. I came here because I like to study computer science, and I like to learn and explore new things. Sometimes it's tough to work on research when things don't go well, but some part of my mind is always enjoying it," he said.
After he finishes the PhD program at TTIC, Yoneda hopes to work in industry. While he has enjoyed being a part of the academic research community, he hopes to pursue a career that will have more of an immediate impact on the general population, and help ordinary people improve their daily lives.