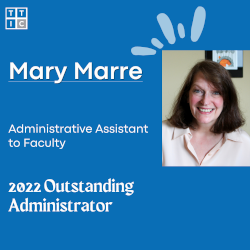 2022 Outstanding Administrator: Mary Marre
Mary Marre, Administrative Assistant to Faculty, was the recipient of the 2022 Latrice Richards Outstanding Administrative Award, which was announced at TTIC's 2022 Diploma and Awards Ceremony on Sept. 20, 2022. This award is given each year to recognize an administrative staff member's hard work and dedication, and the recipient is chosen based on nominations from the TTIC community.
"I've never met a more dedicated administrative assistant," said Jessica Jacobson, Chief Financial Officer and Director of Operations, who was reading out loud an anonymous comment made about Marre while presenting the award to her.
Before joining the TTIC administrative team in May 2015, Marre had been working in academia for several years. Previously, she worked as a research coordinator and administrator in healthcare studies and cancer research fields. The prospect of a position in the field of computer science was very exciting, said Marre.
"The TTIC administrative team is so talented and they work so hard, and for me to get this type of recognition is really a great honor," Marre said. "I've met so many amazing people at TTIC and it has made me become a better person."
Marre's main responsibilities include supporting the faculty staff by coordinating tasks and meetings, handling logistics for visitors and speakers, processing expense reimbursements and account reconciliation, and anything else that is needed to support the faculty staff.
Marre's dedication to her work as well as her excitement for this field of research serves the mission of TTIC. Her support is important in keeping things efficient, organized, and running smoothly for the Institute.
Her favorite thing about working at TTIC is the vibrant and diverse environment full of dynamic, brilliant people who are great to work with.
"Over the years, TTIC has developed a strong sense of community, especially during the pandemic," Marre said. "People relied on each other and strengthened one another, and it was really great to see. TTIC is a really special place, and I am so fortunate to be a part of it."