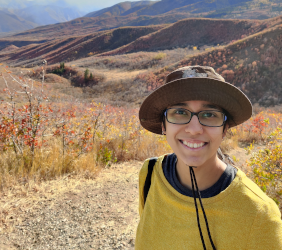 Student Highlight: Ankita Pasad
Fourth-year PhD candidate Ankita Pasad's career in computer science began with studying engineering as an undergraduate, at the Indian Institute of Technology Bombay. "I was good at math, and I liked doing it," said Pasad. "Engineering was the only thing I knew of where I could do both math and science."
As a high school student, her mother encouraged her to take extracurricular exams in math and science. In India, where Pasad grew up, there are state and national level examinations that require extra studies. The exams are highly competitive, and include more objective questions on different content areas.
"I really loved preparing for those exams more than for my usual school studies. I'm really grateful to my mom for that, because it wasn't easy. During that time, the internet was not as accessible, and she had to go from person to person to collect the information to enroll me in these exams," said Pasad.
These studies were the first seed that eventually led her to major in electrical engineering as an undergraduate. Pasad was not always sure that she wanted to pursue academia as a career, but as she progressed in her studies and began taking more elective classes that interested her, she began to see a PhD program as the logical next step.
"My senior level classes gave me more freedom to think. That's when I started feeling that maybe I do really like it, and I'd like to give academia a go. Fortunately, with my master's thesis, I also got to try research with my advisor, Professor Preeti Rao. It was very collaborative, and I enjoyed that experience. I knew if I wanted to keep doing this a PhD was the way to go," said Pasad.
At TTIC, she works with Professor Karen Livescu. "I'm broadly interested in speech, but more specifically, with this domain of self-supervised and semi-supervised learning. You don't have a lot of labeled data in this domain, so you have to figure out how you would make use of the unlabeled data resources that you have, so that you can compensate for this need of huge labeled data resources," said Pasad.
Self-supervised and semi-supervised learning both refer to machine learning tasks, in which there are varying levels of labeled data. Labeled data has been tagged with various descriptions, for example, a photo being tagged as a cat or a dog. In semi-supervised learning, there is only a small amount of labeled data and a large amount of unlabeled data that the machine learns from. Self-supervised learning only uses unlabeled data, and that makes the resulting methods less task-specific and more scalable to different datasets and downstream tasks (supervised-learning tasks that utilize a pre-trained model or component).
She is currently working with unsupervised pre-trained models for speech representations. These methods have gained popularity and success in the last couple of years, but we don't yet know much about why these representations are so powerful. "Our goal is to learn more about the information encoded by these representations beyond just the performance number on the downstream tasks. For instance, it will be insightful to know whether these representations are doing language understanding by gaining knowledge of some word/sentence-level semantics or whether the self-supervision is creating a good phonetic model to be directly used for speech recognition," said Pasad.
Simultaneously, for a related project, she is developing models to learn quantized speech representations. "We hope that the quantization will help us infer domain-specific features encoded by these representations more organically," she said.
Pasad is also interested in multimodal learning. For one of her previous projects, she worked on developing models that combine visual and spoken data to perform tasks like speech retrieval in the presence of limited textual labels.
Pasad's favorite class at TTIC is the very first class that she took as a PhD student, Mathematical Toolkit. "I'm not sure if I would have taken it if it was not compulsory, but it was the most interesting class because I started off being very intimidated by it. But then, I gradually started liking it, and towards the end, I was very happy with what I learned from the class. It was a very unique and interesting experience," said Pasad.
The class was taught by then Research Assistant Professor Mesrob Ohannessian, who is now an assistant professor at the University of Illinois at Chicago. "He was always available. His office hours would extend late into the evening, and he was always so patient with everyone's doubts. That aspect was really important to make the course less intimidating from what it seemed in the beginning."
When deciding between schools for her PhD, Pasad credits her visit day with helping her make the right decision. Specifically, her interactions with Professor Karen Livescu, who she now conducts research with. "They really gave me a very good idea of what to expect when I'm here, and everyone was super friendly. I felt really good because they had this specific calendar made for me. I felt very welcome," she said. "I couldn't make it to the actual visit day, so I was the only one visiting campus on that day. I could really spread out my time and people were willing to talk to me, even though it was a weekday, and it must have been a busy day for them."
Another major factor in choosing TTIC was that the research being conducted matched her interests, as well as the size of the groups. She liked that at TTIC, she would have more direct interactions with the professors themselves rather than only having access to senior PhD students and TA's. "I personally felt like I would benefit more by having an advisor who is directly accessible. And I've done that multiple times, I just walk into her office and say, Can I pick your brain? And she is always willing to chat if she's not already meeting with someone," said Pasad.
Outside of class, Pasad is very active on campus. She enjoys hosting visiting students, and got involved with this because of her positive experience as a prospective student. She is also the co-leader of Women at TTIC, a group where female students and professors get together for lunch and other activities, like paint nights, to get to know each other better both personally and professionally.